OPTC: Legal Metrology Management System Seminar

OIML Pilot Training Center:
Report on the OIML Legal Metrology Management System Seminar
9–11 August 2016, Guangzhou, P.R. China
Su Guo, OIML Advisory Group Secretary
An international Legal Metrology Management System Seminar, jointly organized by AQSIQ and the OIML, was held on 9–11 August 2016 in Guangzhou, P.R. China. It was attended by over 100 participants from 16 economies.
Metrology, as an important part of the national quality infrastructure (QI), has a unique role in promoting scientific and technological progress, serving innovation, and promoting industrial restructuring. It also plays a unique role in promoting a more ecologically balanced world and in achieving global sustainable development. There is, especially, an urgent need to establish an effective global metrology management system in line with the requirements of current global trends.
Building a sound and efficient international metrology system requires wisdom and creativity on the part of all the concerned parties, and calls for close international cooperation between the OIML, BIPM, IAF, IEC, ILAC, IMEKO, ISO, ITC, ITU, UNECE, UNIDO and other international metrology organizations at a high level, in good faith, to deal with the large number of common interests that are at stake.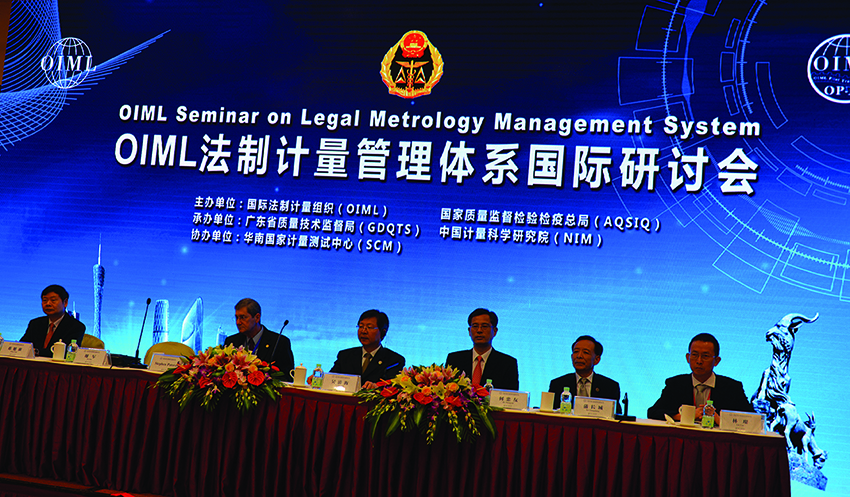 Panel during the opening session of the Seminar
In order to promote metrology in Countries and Economies with Emerging Metrology Systems (CEEMS), the OIML has adapted its actions to specifically cater for the needs of its CEEMS Members, thus fully reflecting its awareness of its huge responsibility in this field.
As a key OIML Member State, China attaches great importance to international cooperation in the field of metrology, and has actively been fulfilling its respective rights and obligations for many years.
As an international and regional metrology organization member, AQSIQ joined forces with the OIML to organize this Seminar in order to build a platform to facilitate the exchange of legal metrology cooperation between OIML Members, with the intention of sharing its long-standing experience in the field of legal metrology, and in doing so to engage in joint efforts to constantly improve the infrastructure of the OIML community.
The OIML has published over 30 International Documents, the most important of which for CEEMS is without doubt OIML D 1 Considerations for a Law on Metrology. The key themes developed in OIML D 1 are mainly the promotion of fair trade, the promotion of innovation and support of metrological supervision, and the protection of citizens' rights; all these areas are closely related to the concept of the national quality infrastructure.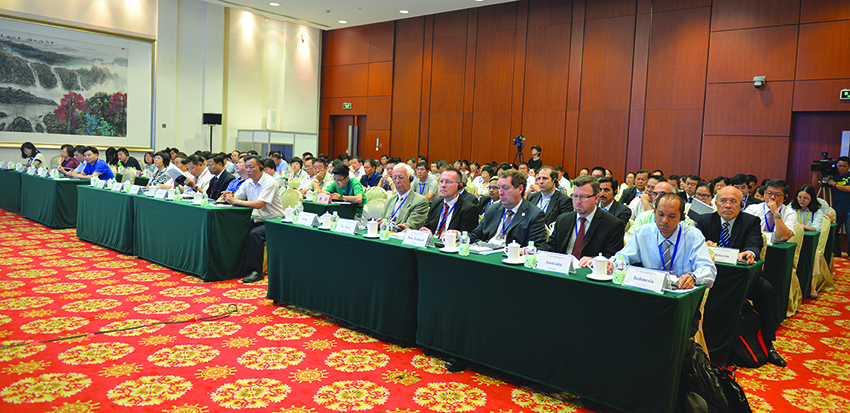 Delegates attending the first OIML OPTC Seminar
The Seminar was organized over three days:
on day 1, the invited guests from Germany, China and New Zealand delivered keynote speeches – each economy then presented a report on the overall situation concerning its national metrology system;
on day 2, the participants were divided into six groups, each of which discussed the following topics:

"How to optimize the legal metrology management system in OIML D 1";
"How to raise the awareness of metrology"; and
"How to improve capacity building in your organization".

Each group then nominated one representative to speak on its behalf on stage.
On day three all the participants were taken on a technical visit to laboratories in Dongguan, Guangdong Province Institute of Metrology.
In conclusion, this Seminar has served to further promote substantive cooperation among OIML Members in areas of common concern and interest. Many experts have contributed comments and strategies to promote the role of metrology which can support the foundation of sustainable growth for economic and social development.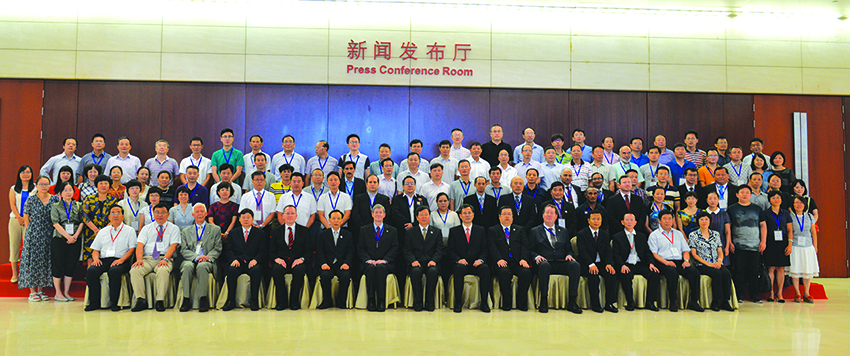 Delegates attending the first OIML OPTC Seminar
Training material: Click here