Emerging Metrology Systems
Advisory Group on matters of Countries and Economies
with Emerging Metrology Systems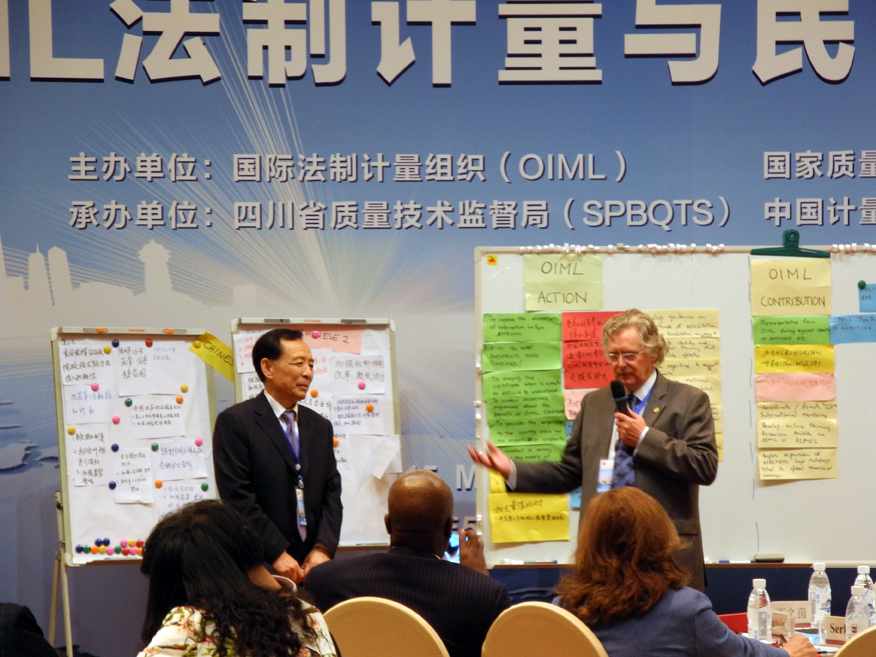 Pu Changcheng and Peter Mason leading the group sessions at the Seminar in Chengdu, P.R. China
Short history
For many years, the OIML has recognized that those of its Members whose metrology systems are not yet fully developed face a number of distinct challenges. Addressing these challenges has become a priority for the Organization.
Up until 2004 an OIML Development Council was in existence; this was replaced by a Permanent Working Group on Developing Countries which functioned until 2008, when a Facilitator for Developing Countries Matters was nominated.
Since 2009, at each of its meetings the CIML has recognized individual and collective achievements through the OIML Award for Excellent Achievements in Legal Metrology in Developing Countries. In 2013 the CIML established an Advisory Group on matters concerning countries and economies with emerging metrology systems (CEEMS), chaired by the CIML Member for the People's Republic of China. The Terms of Reference (ToR) can be viewed here.
2015 Seminar
The Advisory Group organized a Seminar in Chengdu, P.R. China, in May 2015 with the intention of examining the initiatives which have been most successful in assisting countries and economies with emerging metrology systems to improve the operation of their legal metrology systems. Information on this Seminar can be found here and this work was followed up by a further seminar in conjunction with the CIML meeting in October 2015.  This Seminar gave rise to further discussions at the CIML meeting, enabling the CIML to pass a comprehensive resolution (2015/10) to guide the OIML's work related to CEEMS.  This resolution can be found here.
The OIML's philosophy
The OIML recognizes that the best way to improve legal metrology in an economy is often as part of a coordinated strategy to develop the whole of the economy's quality infrastructure, embracing metrology, accreditation and standardization. The Organization is also an active participant in the Network on Metrology, Accreditation and Standardization for Developing Countries or DCMAS.
Financing - Special fund
At its 47th meeting in 2012, the CIML approved the creation of a special fund to support projects related to issues of interest to developing countries.
To date, this fund has supported some research into the impact of legal metrology and the gathering of information and experiences at the Seminar in Chengdu.
RLMOs
Regional Legal Metrology Organizations (RMLOs) also have an important role to play in supporting CEEMS in their respective parts of the world. The annual RLMO Round Table regularly discusses issues relating to developing countries, in particular training arrangements. The OIML has played a prominent role in the "Metrology schools" organized in the AFRIMETS region by UNIDO and other funding agencies.